Swedish steel prize nominee 2013
Passenger DMU railway vehicle
2013 | Pesa Bydgoszcz S.A. | Poland 6 min read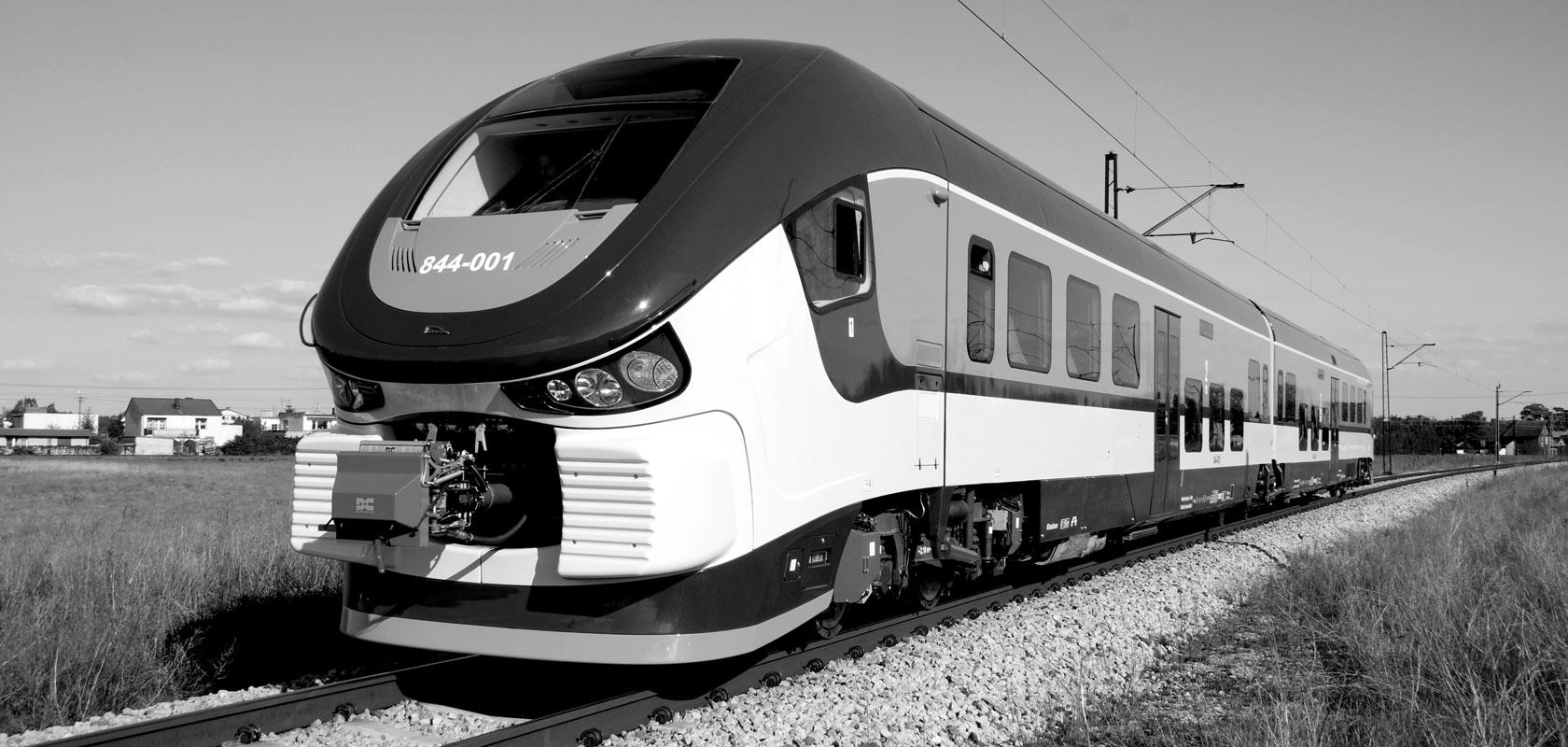 Thanks to a chassis made almost entirely out of high-strength steel, combined with new safety solutions, Polish firm Pesa Bydgoszcz SA has become the first in the world to construct a passenger train which meets the new European safety standards. The train, called "Link", can withstand an impact at speeds of up to 110 km/h (according to EN15227 3th scenario) without deformation of the main structure . The design's shock absorption capacity offers significantly improved protection for passengers and train crew alike.
Link is a diesel-powered passenger train designed to meet the stringent new safety standards established by the EU in accordance with EN 15227-1:2012. These standards take into account various collision scenarios and place greater importance on personal safety than ever before. Pesa has chosen to set its sights on a standard that is even higher than that required by the EU.

"We could see that by using our choice of high-­‐strength steel along with the safety solutions that we've developed, there was an opportunity to come up with an even safer design," explains Jacek Konop, Director of Research and Development at Pesa. "European standards set the lower limit for the design's of carbody axial resistance (class P2 – 1500kN according to EN 12663). To increase the level of energy absorption our LINK carbodies can manage 6000kN during axial impact force peak."

Strong chassis
There are four different variants of Link, made up of between one and four cars, each built on a robust chassis, 70 per cent of which is composed of high-strength steel. The geometry of the chassis has been newly developed from the ground up and is capable of withstanding huge forces. In the event of a collision, these forces are distributed throughout the chassis, which can withstand an impact at speeds of up to 110 km/h*.
"In order to withstand the huge forces generated in a collision at that speed, high-strength steel has proved to be the only option and so we chose to work with Domex 650 and 700, two of the strongest hot-rolled steels on the market," Jacek continues. "This meant we could develop an incredibly strong chassis design and still meet weight requirements."
Besides Link's strong chassis, Pesa's development team has put a lot of effort into other aspects of safety in the event of a collision. The key is to slow the forces (deceleration) down as effectively as possible before the load of the impact reaches the chassis.
"We've developed train buffers that have a number of extra features," Jacek explains. "One example is the flap that we've built in. In the event of a collision, it grabs onto the buffers of the oncoming train so that it can't 'climb up' and land on top. Train collisions almost always result in one train climbing up and coming to rest on top of the other, with serious injuries as a consequence. The new buffers absorb a lot of energy from the impact before it can reach the chassis."
Proprietary analysis software
During the design process, Pesa used proprietary analysis software which mimics the FEM method. "The software simulates various processes digitally with only a two per cent deviation from the FEM analysis," Jacek states.
"This allows us to work much more quickly and efficiently during the development stage. Tests indicate that we've achieved the same results as the more long-winded FEM analyses," he explains.
The success that Pesa has achieved with Link is clear to see, as the trains are already in service with several operators across Europe - even though deliveries have only recently started.
"We started deliveries in the spring with the first train going to the Czech Republic," says Jacek. "We've subsequently delivered trains to both Germany and Poland, with 45 Link trains now in service across the European railway network. Interest in the trains has been very high."
Pesa is expecting continued high demand for Link with operators such as the German state railway operator Deutsche Bahn, which has placed an frame order for 470 units.
"Production is going to be ramped up considerably," explains Production Manager Sebastian Kamecki. "We have the capacity to produce up to 50 cars per month, and it seems we're going to need every bit of it."
A new start
Production takes place at Pesa's large facility on the outskirts of Bydgoszcz. The facility has a long history in trains and trams. A service workshop for maintaining local railway trains was opened here as early as 1851, and at the start of the current millennium the company entered into a new phase when it was acquired by private owners. From this point onwards, the business was steered in a new direction and the development of new trains quickly picked up speed. The company has now secured its place as one of the most successful in Poland, with Pesa producing a wide range of trains and trams which are sold to a number of different countries.
Work is progressing at a frantic pace in the huge assembly hall, where new trains are rapidly rising up from several parallel tracks. Link accounts for a large part of the company's current production, with staff working in several shifts. Much of the required processing, welding in particular, is performed on site.
"We work with thicknesses of between four and twelve millimetres," Sebastian continues. "The whole design is optimised so as to fulfil our safety standards without being too heavy."
New projects
Link is proving to be a huge success for Pesa. The trains are among the safest currently in service on Europe's railways, without compromising on comfort.
"This is a competitive market, but we know that our trains have been well received thanks to the high levels of safety we've achieved by using high-strength steel," Jacek explains. "Yet the design also has to be attractive and offer passengers a high level of comfort. This is something we've been able to achieve with Link."
The success of Link has whetted Pesa's appetite and the company has new development concepts waiting to be launched in the assembly hall.
"Our upcoming trains and trams will also be made of ultra-high-strength steel," Jacek concludes. "We now have considerable expertise in high-strength steel. This will allow us to develop even safer railway cars in the future. This development has only just begun."
Pesa's Link train has been nominated for the Swedish Steel Prize 2013.