Swedish steel prize nominee 2013
Drop deck widener "Load'n Lift" trailer
2013 | Tuff Trailers Pty Ltd | Australia 6 min read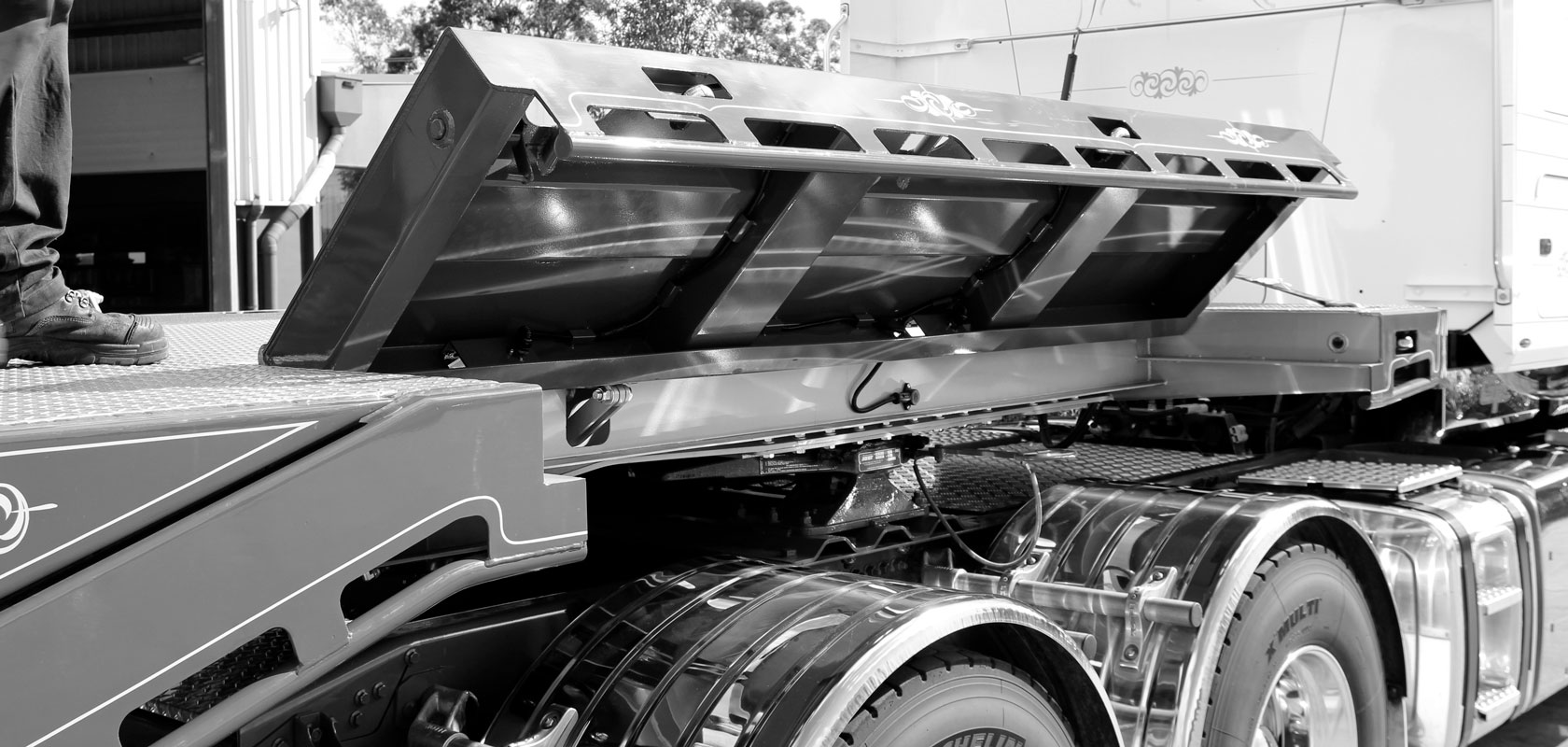 Since their very conception, both trailers and other heavy vehicles have been made in the same way - using two longitudinal beams, axles, wheels, and a towing unit. Now the Australian Tuff Trailers (QLD) Pty Ltd has developed a brand new design which turns this tradition completely on its head.
"Our 'Drop Deck Widener Load 'N' Lift' is lighter, safer, and more economical than any other comparable trailer design," explains Denis Di Pasquale, owner and CEO of Tuff Trailers.

Thanks to its chassis, which comprises a single longitudinal beam, mono-spine, and cross members with the same characteristic shape, Tuff Trailers (QLD) Pty Ltd of Australia has been nominated for the Swedish Steel Prize 2014 for its completely redesigned trailer for machinery.

Inspired by cranes
"I got the idea while thinking about the modern design of cranes," Denis explains. "Crane booms are optimally shaped to handle large loads, as well as withstand fatigue and other stresses. It seemed like it should be possible to use this principle on a trailer, too."
Essentially the new trailer has only one chassis beam, shaped like an upturned 'U', while its base is covered by a welded plate which fixes the structure.
"Once we had agreed the basic principles, our CAD designers Matt and David Dengate produced a design, came up with fatigue calculations, and determined what materials were needed."
"Advanced, high-strength steel is the key to this design," Denis explains. "We primarily use SSAB's Weldox 700, which we supplement with Domex 700 for a number of components."
Thanks to the subsequent lower weight and greatly improved fuel efficiency, one of the things the end-client benefits from is increased load capacity.
The new trailer design integrates patented loading ramps in the rear section of the trailer bed, 'Tuff Load 'N' Lift'. In more traditional designs, the loading ramps fold up and generate considerable wind resistance when the vehicle is moving.
20 per cent fuel saving
"We're looking at reduced fuel consumption of up to 20 per cent," Denis states proudly.
Competition is fierce among trailer manufacturers in Australia with the challenge not only to produce trailers that are light and strong, but at a price that is acceptable to the customer.
"We've chosen to compete on quality. Despite the slightly higher price, our customers soon benefit from products which deliver what we promise," Denis explains.
In fact, Tuff Trailers depends on living up to customer expectations, because the company does not spend a single penny on any other type of marketing. Denis does not feel that advertising in the trade press or setting up booths at trade fairs is a particularly effective way to reach customers.
"What sells our products is customers actually seeing our trailers on the road - something which demonstrates that our trailers deliver, and that they handle well."
Similarly, things are going well for Tuff Trailers, which has now been on the market for 20 years. In 1995, the company was named the business of the year in the region, by which time sales had increased by 813 per cent!
Investing in safety and quality
"We're still growing today, although the figures aren't quite as mind-boggling as they were back then," Denis reports. "We should be able to sell more, but we want to be certain that our products deliver what we promise and that we don't rush things when it comes to development and production."
The new trailer will now result in both shorter development times and an increased rate of production.
Twins David and Matt Dengate are developing a CAD drawing of the new design on a computer screen:
"The spine of the structure is a main beam which we call the mono-spine," they explain. In principle, the cross members have the same profile and pass through precise plasma-cut holes on both sides of the main frame. Subsequently, the cross member is supported on both sides of the centre of the chassis, making the structure incredibly stable.
The benefit of steel
Despite being longer than in comparable designs, thanks to the steel, Tuff Trailers is able to reduce the number of cross members required. This is once again an advantage of the advanced, high-strength steel.
In the long run, the mono-spine, cross members, and a number of other details involved in this concept will be capable of being manufactured in modules. This will allow the prefabrication of stock and an opportunity to shorten production times. More importantly, many of the metal components have high levels of ductility thanks to the dramatic reduction in the amount of welding needed.
40 per cent less welding
"There's 40 per cent less welding in our new trailer compared to more conventional designs," Denis explains. "In total, we estimate that the cost of production is 15 per cent lower."
In concrete terms, this means that a mono-spine, for instance, consists of three plates welded at four joints, compared to traditional longitudinal beams of eight plates and 14 welds.
The first trailer produced using this new concept has driven for around 50,000 kilometres since being delivered to the customer.
"We had the trailer in for a check in October," Denis explains. "It's had some intensive use, but there's no sign of any problems. The customer is really pleased, which confirms that our ideas have delivered results. Now we know that we are going to sell many more of the 'Drop Deck Widener Load 'N' Lift'. "
A queue of customers
Tuff Trailers already has a queue of customers waiting to buy the new trailer, which features a load surface that can be widened by up to four metres - half a metre more than most products currently available from competitors.
"For many people, the ability to widen the trailer bed at the sides is important," says Denis. "Combine harvesters, mining equipment, and construction equipment keep getting larger and larger, with ever wider trailers needed to transport them. Thanks to the new design, we have been able to exceed our customers' expectations in more ways than one."
For example, this includes making it easier for the driver to manage all of the trailer's functions such as widening the trailer and operating the loading ramps, by way of either a control panel or a remote control. This means that the entire loading operation can be performed safely and quickly by a single person. Just a few minutes after the trailer has been correctly positioned, it's ready for its cargo.
The rig is also self-sufficient in terms of electricity and hydraulics, enabling the tractor to go off and do other things - leaving the trailer, and all its features, to work autonomously.
Denis stresses the importance of advanced high-strength steel for performance, and states that this concerns the properties of the material at every level. He values its machinability, ductility, weldability, and surface.
A conscious choice of steel
"Our choice of steel grades is as conscious as our choice of the other components we use," he says. "Suspension, shock absorption, the kingpin, lighting... Everything we use must be of the same high standard."
Denis has worked in the construction of transportation equipment since 1988. In 1993 he established the company which would become Tuff Trailers two years later. One of his first commissions was a real challenge - he designed a custom-made trailer for a motorcycle drag-racing team heading for the fastest land speed world record in the U.S. The project demanded clever solutions and motivated Denis to invest in the growing market for heavy trailers.
"One of the company's first jobs was really tough," he admits. "I managed to sell an advanced design, despite not really having the funding or equipment for the project. But the customer believed in me, and I managed to exceed their expectations."
Four steps ahead
Denis feels that the company's ambition to constantly improve is its most important asset:
"It may sound a bit cocky, but being one step ahead of the competition simply isn't good enough," he says. "It's only by being four steps ahead that we can maintain our strong market position."
And this time their sights are set especially far into the distance - all the way to Sweden and the Swedish Steel Prize. Tuff Trailers is one of four companies nominated for the prize, which will be awarded in Stockholm on 20 November.