Swedish steel prize winner 2014
The largest dump truck in the world
2014 | Belaz | Belarus Winner 6 min read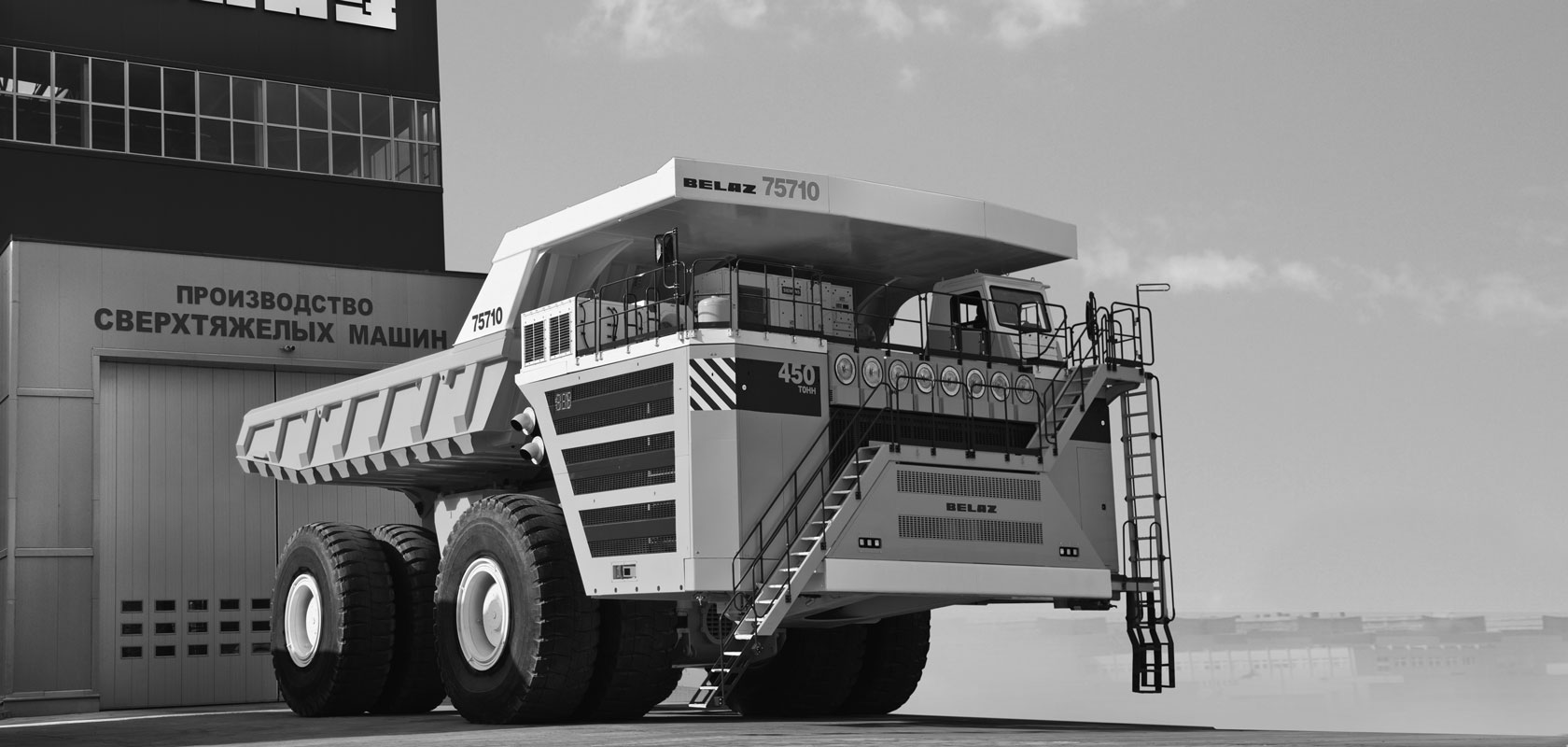 Belaz has been nominated for the Swedish Steel Prize 2014 for a new axel suspension construction and swivel carriage made from high strength steel, which makes Belaz 75710 the world's biggest dump truck with a carrying capacity of 450 tons.
To optimize production in mines and quarries, the global mining dump truck manufacturer Belaz had an idea: Create the world's largest dump truck with a 25 percent larger payload capacity than conventional trucks, while minimizing fuel consumption for lower costs per load.

However, doing so meant overcoming a major challenge. Higher payloads in dump trucks are directly connected to tire size. And currently, the largest tires available were already being used on Belaz's next biggest dump truck model with a load capacity of 360 tons.

"The main motivation was to produce the biggest dump truck that could deliver the most capacity with the lowest fuel consumption, saysLeonid Trukhnov, First Deputy General Design Engineer – Mining Equipment Chief Design Engineer, Belaz. "

Overcoming the challenge
The solution to increasing payload was found in the weight distribution of the dump truck.
The rear axel of conventional trucks typically carries roughly 70 percent of the load. In order to increase payload capacity, the weight would have to be evenly distributed over both the front and rear of the truck. To do this Belaz needed to shift weight forward and use four tires in the front and four in the rear. A moveable axel system with slewing bearings was required.
Benefits from high strength steel
The high strength steel Weldox 700F, from SSAB, in 110mm and 125mm plates was chosen for the manufacturing of the swivel carriage, a component of the truck suspension system between axle and frame that interconnects them together with bearing. Hardox 450 was used in the dump truck body. All parts were preprocessed by SSAB in Sweden and assembled on site in Belarus.
Weldox is structural high strength steel for heavy and demanding applications, however, it also performs well in the workshop and can be welded with conventional techniques.
Achieving the goal
When it was completed, the Belaz 75710 achieved its payload goal of 450 tons, an entire 90 tons more than the company's next largest dump truck. It has a top speed of 60 kph and 40 kph when fully loaded and climbing a 10 percent gradient. Furthermore, the Belaz 75710 is able to work in the harshest mining conditions in the world, down to -60 degrees Celsius at almost 5000 meters above sea level.
"The dump truck is also 180mm lower than the old one which is very important for loading mechanisms as well as stability and safety," saysTrukhnov.
Additional trucks planned
Currently, one Belaz 75710 dump truck has been produced and already is in operation at a coal mine in Siberia. The second one is in production and there are already five more on order for 2015.
The Swedish Steel Prize Jury Motivation:
By using Advanced High Strength Steel combined with a unique design, Belaz has made the world's biggest dump truck, which has considerable advantages in terms of productivity and fuel economy. Weldox high strength structural steel is used in the axle suspension to reduce thickness and still handle the extreme axle loads. Equal load distribution on the front and rear wheels combined with a low center of gravity has resulted in increased stability and safety. Furthermore, the use of Hardox wear plate in the body decreases abrasive wear and impact dents.