Swedish steel prize winner 2017
Faster, smarter, and cheaper mineral transport
2017 | Kiruna Wagon | Sweden Winner 6 min read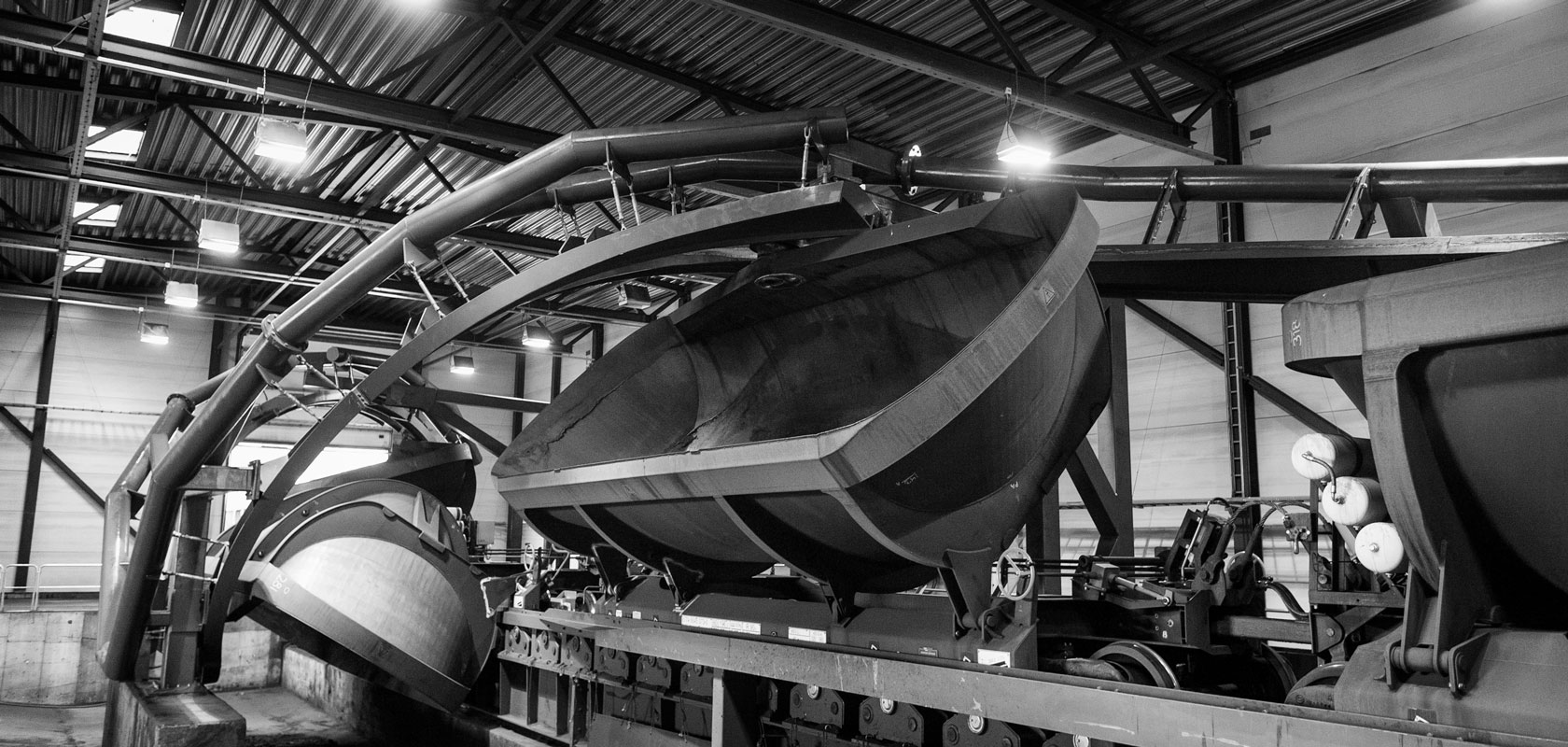 When Kiruna Wagon was asked by a customer to develop a more efficient solution for the transportation and unloading of iron ore, the northern Swedish company went a step beyond. Based on an old concept, they created the Helix Dumper, an innovative wagon solution that is highly durable, as well as far more efficient and versatile than other ore wagons on the market. High-strength steel played a key role in the development of the wagon and Kiruna Wagon has been named a finalist for the 2017 Swedish Steel Prize.
Room for improvement
When transporting rocks, boulders, pellets and fine ore concentrates over long distances by railroad, there are three wagon solutions typically available. However, in terms of unloading efficiency, each have their limitations.

The mining company Northland Resources, needed a more efficient wagon solution and asked Kiruna Wagon for assistance.

"Together we looked at a small design that they wanted to make into a large dedicated wagon concept, with a 100-tonne payload. To make it as strong and wear resistant as possible, we found a nice design with few welds and a self-carrying structure, explains Fredrik Kangas, Managing Director at Kiruna Wagon"


Simple and effective design
The result was the Helix Dumper, a 32.5-tonne axle load dumper, with a simple, yet smart design that minimizes welding and wear, combined with an ingenious unloading system.

For unloading, a fixed "helix" system, resembling two offset arches over the tracks, was constructed at the offloading site. Each wagon has a capture wheel and as it moves along the railroad track, this connects with the stationary Helix structure. The wagon is then gradually tipped over and back again in a single smooth motion.


Optimizing with high-strength steel
When it came to development, high-strength steel was a crucial element to the successful design.

For the final design, Strenx 700 was used in the structure of the wagon. The stiffeners around the wagon body are made from Strenx 700. The top rail of the wagon is made with Strenx 700 at 6 mm and, in the body, Strenx 650 at 4mm was used.

"For offloading, the pressure from the tipping wheel is very high, so we used Hardox 400 with a 30 mm dimension," says Kangas.


A clear advantage
The greatest benefit of the Helix Wagon system is the high unloading speed of 25,000 tonnes per hour, which is twice that of many other systems.

In terms of costs, the Helix Dumper also offers an advantage. When comparing with other systems, a complete unloading system for the Helix costs 1/7th of what a rotational wagon terminal costs.

"Since we do not have to tip the wagon chassis, we do not have to stop the train," says Kangas. "We just unload at a smooth even pace, with no stresses from stopping and starting. Overall, it is just a smart and effective solution."


Swedish Steel Prize Jury motivation:
Kiruna Wagon has developed an innovative dumper wagon system for long-haul railroad transportation together with efficient unloading of minerals. Use of advanced high-strength structural and wear-resistant steels made possible the design of light cars combined with a stationary Helix terminal for on-the-fly rotary unloading. With its nearly doubled unloading rate, the Helix system is superior to all conventional solutions and solves many problems related to sticky aggregates. The investment cost for the terminal system is significantly lower.