Swedish steel prize nominee 2023
Ultra-fast maintenance system
2023 | DigJim | Norway 6 min read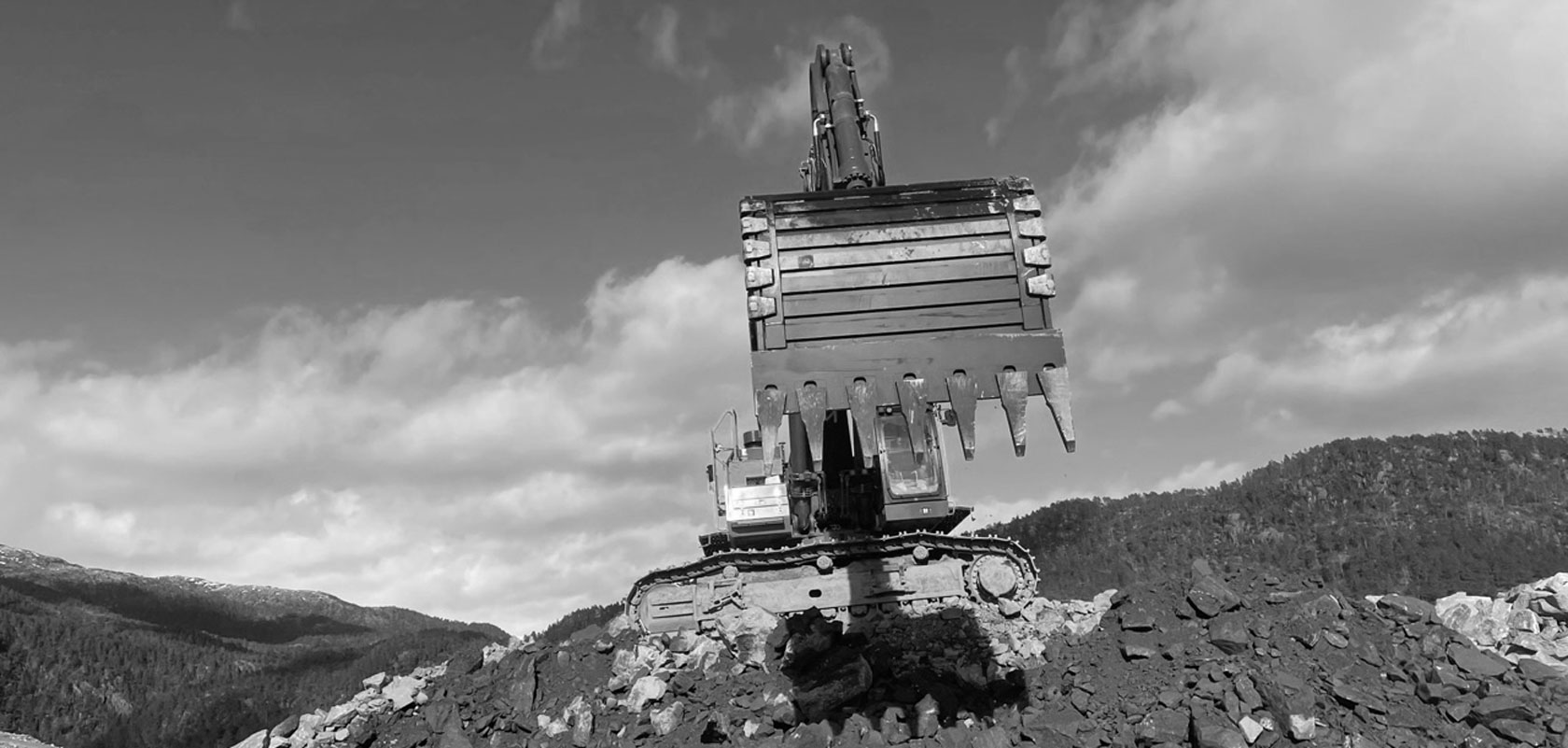 This user-driven innovation is a patented system designed for quick exchange of bucket protection parts on site. This solution is opening up for new flexible and sustainable ways of working with maintenance. In addition, by utilizing the strength as well as wear resistance of the material, an extended tooth design for DigJim system has documented increase in productivity in use.
User-driven steel innovation
Working out of Helldal, Norway, Jim Heldal has been in the construction business since 1970. He is an entrepreneur at heart, runs a group of companies, and still spends time in in the excavator every week. When welded adaptors and exchangeable teeth were introduced in the mid 80's Jim was part of the development of the KVX system now owned by Komatsu. This has not stopped him from looking for further improvements in his line of work.
Wear in buckets
Wear is one of the most crucial problems for excavator buckets. The lip, the teeth and the front corners are quickly worn down. The original construction grows weaker and the bucket loses its properties. Digging stops and costs soar.
Replacing old school adaptors and teeth takes time and effort. They need to be taken to a workshop for removal, and then new ones are welded to the lip plate. Jim has come up with a better system. He drew the original idea on a piece of scrap paper in 2020. His source of inspiration: "I was very impressed by Japanese woodwork, their ability to wedge together wood with great precision and create amazingly strong constructions. And then I thought; why not try to wedge together steel in the same manner?"
Ultra-fast maintenance
The hardened steel teeth in the DigJim system have a flattened shape and slide into position with great precision. Due to their ingenious shape and angle, they stay locked in place. The material and the millimeter precision make the system incredibly strong, yet wear parts can be replaced in minutes: The adaptor and/or tooth is knocked off, and the replacement is inserted by hand. The components are kept together by precision and by friction – and the bucket can go back to work.
A better system
The DigJim protection system in Hardox® 500 steel is welded to the bucket during initial production – or it can be welded to an existing bucket during maintenance. It brings a long list of improvements:
The cutting-edge protection strengthens and protects the bucket lip and critical areas, reducing wear and prolonging its lifetime.
Replacing worn-out bucket teeth takes hours – or even minutes – instead of days.
No special or expensive tools are needed.
Harder steel enables longer teeth, increasing penetration and efficacy of the excavator.
Increased bucket loads lead to increased productivity by an estimated 10%.
Harder steel allows for reduced dimensions, reducing weight by up to 30%.
Reduced fuel consumption – and smaller carbon footprint – due to weight reduction and increased productivity.


Sawed, not welded
For maximum precision and strength, the parts are cut from the plate by sawing. This process ensures that the hardened steel avoids deformation caused by the heat of traditional thermal cutting techniques. "For the system to work in an optimal way, you need full hardness in the entire component," explains Jim. Mechanical cutting has another great benefit: it generates the least wastage during production.
Results beyond expectations
The lip (front) plate has machined grooves for an exact fit with the hardened steel teeth. The shape has been developed using Finite Element Analysis and verifying tests. Jim Heldal has been using the system in his own operation on machines between 20 to 140 tons, making adjustments to improve the performance.
"The system and the material is stronger than we had calculated. Our initial models were oversized. We were able to reduce the Hardox® steel construction by 30% – still with good results."
The development has been carried out in cooperation with Norwegian bucket producer Klepp Mek. Machining procedure have been developed by Se-Tech AS. To get the best combination of hardness and toughness DigJim uses Hardox® steel to construct the system.